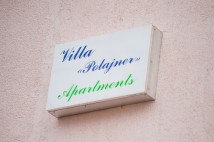 Grebaštica, a picturesque little town located in the vicinity of Sibenik, is ideal for a relaxing holiday by the sea.
The village with its archipelagos, bays, olive groves, vineyards and pine forests is a rich source of new adventures and experiences for the guests.
Through the remains of Roman buildings Grebaštica also has a great historical and cultural significance.
The Villa Polajner located in the Bay of Galesnica near the town center, making it an ideal place for those who want to relax and enjoy their holiday with all senses.
The gently sloping pebble beach is ideal for children.
For those who like to go walking, the center is accessible in 10 minutes walking distance on the beach promenade. There is also a footpath over the small hill, where you can go jogging through a small forest to the edge of the peninsula Ostrica.
Very interesting are also the nearby National Parks Kornati and Krka. Many excursions are offered to these places.
The ViIla Polajner can meet all the expectations and interests of each guest. This rather attractive holiday house is situated in a quiet and sunny location very close to the sea and beach.
Shopping facilities are located within 300 m in the center and restaurants within 200 meters. Car parking in the yard and garage are available, also own moorings in front of the house.
The house has 4 apartments of the first category (4 stars) and is equipped with a jacuzzi, satellite TV and wireless LAN. For sharing are also available: garden shower, grill and washing machine. Pets are allowed, and own deck chairs on the beach are available.